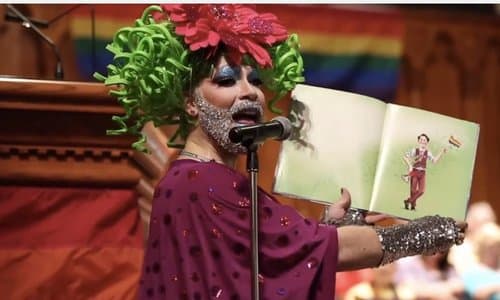 Just when you think it can't get any worse in the church, it does. With Gay pride flags covering the hall and rainbow candles on the church stage, Cincinnati's Mount Auburn Presbyterian Church greeted its visitors this past Sunday with Drag Queen "Sparke Leigh", complete in purple dress, makeup, high heels and a glitter beard.
Following the song "God Welcomes All" by the church choir, Sparke Leigh walked up on stage and, rather than reading from the Bible, read the book Pride: The Story of Harvey Milk and the Rainbow Flag to the audience.
Milk is considered the first openly homosexual elected politician in California and worked as a homosexual rights activist. The story was intended for children, some of whom sat at his feet during the reading. Milk was a well known pedophile.
At another point during the service, a man stood up and gave his 'testimony'. Not of finding Christ, but of his "coming out" and acceptance of the Gay lifestyle.
Meanwhile, Ginter Park Presbyterian Church in Richmond, Virginia has just ordained its first pastoral candidate who identifies as gender non-binary (not exclusively masculine or feminine) over the weekend.
Cook becomes the first non-binary person to complete the PCUSA's ordination process but, no doubt, will not be the last. Cook will fit right in with the recent nomination of Kathy Luecker, who had been asked to serve as president of the Presbyterian church's "A Corporation", which manages the church's real estate and finances.
Luecker was fired from the Presbyterian church fifteen years ago for meeting with the terrorist group Hezbollah, in Lebanon, but oh how times have changed. Now the Presbyterians are leading the charge for the BDS movement which seeks to sanction Israel economically for its perceived injustices towards the Palestinians.
Each General Assembly has become a forum to see who can put forward the most anti-Israel resolutions. Many Jewish groups that try to build bridges with Christians say they can no longer work with Presbyterians due to their outlandish positions.

READ MORE