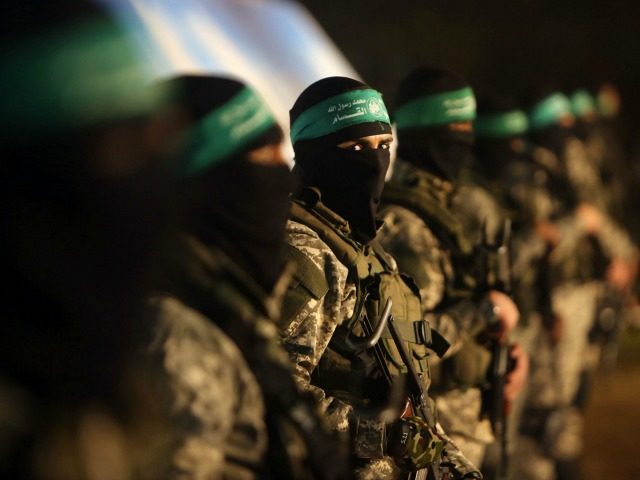 MAHMUD HAMS/AFP/Getty



The exchange took place with Abu Huzaifa Al-Maqdisi, a 24-year old Gaza-based jihadist who is a deputy to Abu al-Ayna al-Ansari, a Salafist movement senior official in the Gaza Strip. Ansari is a well-known Gaza Salafist allied with Islamic State ideology.

Maqdisi appeared on Klein's talk radio program, "Aaron Klein Investigative Radio," in the place of Ansari because Ansari's house has been bombarded in recent days by Hamas militants fighting IS ideologues in Gaza, causing Ansari to temporarily go underground, the jihadist group told Klein.
The following is a transcript of the exchange:
KLEIN: Let's get realistic here… Does the Islamic State really believe that it can go up and defeat the Israeli military? Don't you think if Israel really wanted to, and I think that one attack will prompt them, they can wipe you guys out in a matter of minutes?
MAQDISI: This is wrong that the Israeli army can defeat us. We were promised by the prophet that we will win this war. And recently we sent a couple of messages. We shot a month ago rockets against Eilat in the south of the country of the sons of pigs and monkeys. We exploded a bomb against an Israeli force in the region of Taim Abu Salem also in the south. And this was only a message to say to the Israelis that we are preparing to lead (a) major operation, including inside the Israeli areas.
KLEIN: Now when you say the sons of pigs and monkeys, I want to ask you, is that a metaphor? Or do you really believe that Israelis, that Jews, are actually the sons, as in really descended, from pigs and monkeys?
MAQDISI: This is an expressive way to define them but the truth is even they are not worthy to be described as pigs and monkeys. They are less than that.
Klein's show airs on New York's AM 970 The Answer and NewsTalk 990 AM in Philadelphia.
In March, Ansari himself
appeared on Klein's program
and threatened that it is only a matter of time before the Islamic State's branch in the Egyptian Sinai carries out a "big operation" in the Israeli resort town of Eilat and other parts of southern Israel.